SearchAdsHQ Automated Rules for Apple Search Ads
How to Streamline Daily Apple Search Ads Tasks with Automated Rules
Automated rules let you make changes in your Apple Search Ads account automatically, based on the settings and conditions you choose as the most important for your campaign management.
SearchAdsHQ customizable rules for will save your time by cutting down the need to monitor Apple Search Ads campaigns and make frequent, manual changes.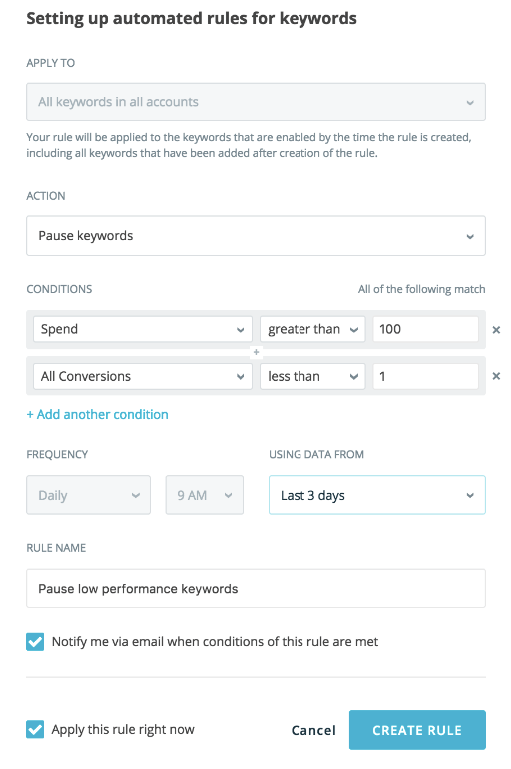 To set up a new automated rule in SearchAdsHQ, navigate to Ads Managed and hit the Create Rule drop-down menu. You are able to create new rules forApple Search Ads, as well as to manage the existing ones. Additionally, you would be able to create automated rules for all keyword within all accounts or within selected ad accounts.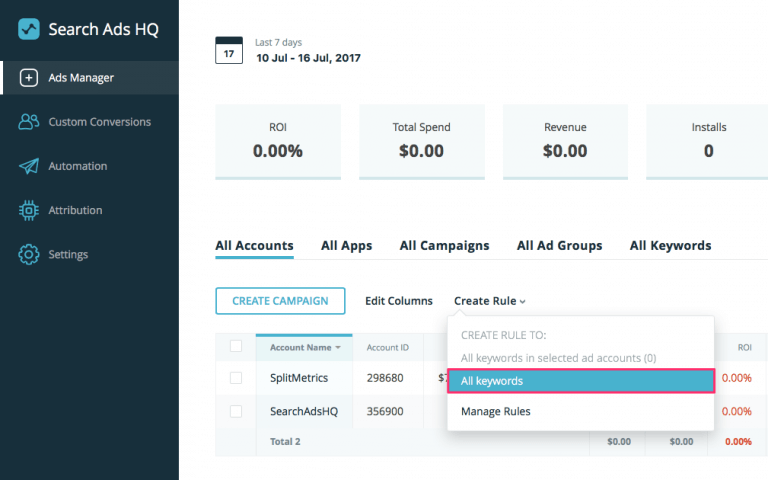 You can apply an automated rule immediately by checking the special box Apply this rule right now on a rule creation form. This way, theApple Search Ads rule will be applied as soon as you click Create Rule button. With this option you can use rules for bulk updates, it's helpful when you need to update more than 100 keywords at once.
Automated rules are not connected with each other, one rule does not affect other rules for the same keyword. You can create as many rules for Apple Search Ads as you want.
In SearchAdsHQ we currently offer 4 actions to be set up as an automated rule including keyword pause, adding keywords as negative, changing bids and sending a notification via email.

Change Keyword Bid
You are able to change bids by increasing, decreasing and setting up a fixed value. It is possible to make those values changeable in percentage or monetary points, set up maximum and minimum limits for a bid value. That all makes the management of your ad campaign super scalable and agile.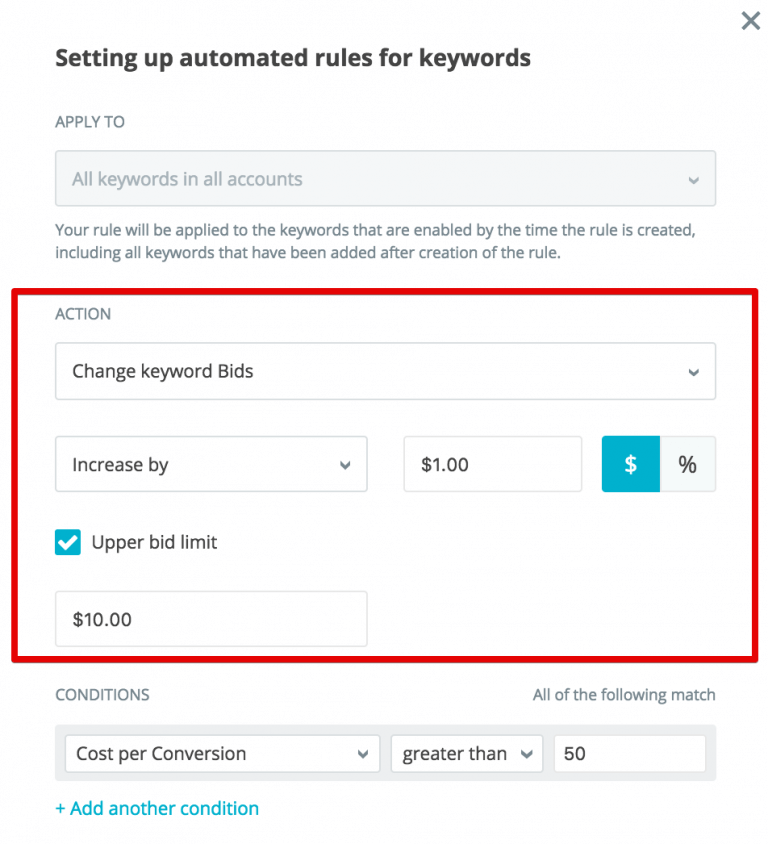 Conditions
You can use almost all your SearchAdsHQ metrics to create meaningful conditions for your rule. You also can set up as many conditions as you want. Here is the list of all available right now parameters and operators: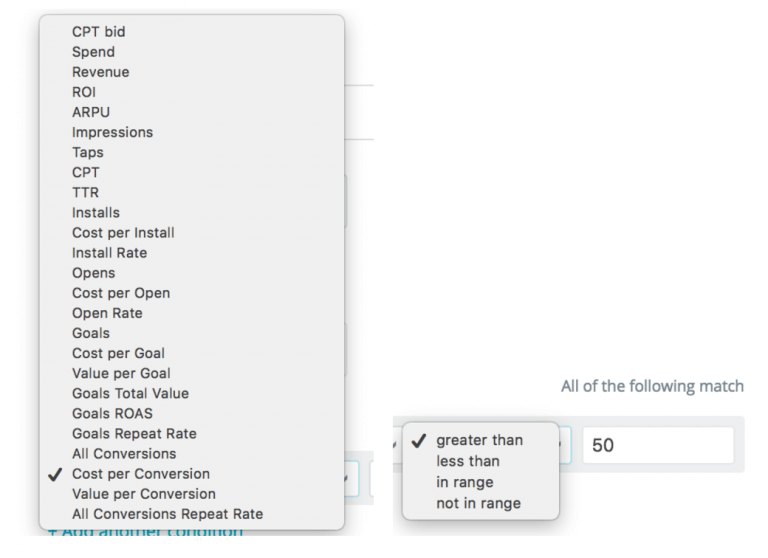 Note that in range and not in range operators use inclusive bounds.
Set up an action and conditions for that action, it's frequency and an automated rule name. Do the checkbox if you wish to get a notification via email once the conditions are being fulfilled.
Once you do the Apply this rule now checkbox in the form, you'll put your automated rules into action and then can just get comfortable and enjoy while the system manages yourApple Search Ads account.
Bear in mind, that the system isn't as smart as you are, so you'll need to set appropriate limits for your rules and review your results occasionally to make sure the automated actions taken by the rules are the result of enough data. To monitor and manage your automated rules navigate to Automation on the right side menu or hit Manage Rules in your Ads Manager > Create a Rule. You can see the list of the rules, their settings, enable/disable the rules and also delete those ones that are not relevant anymore.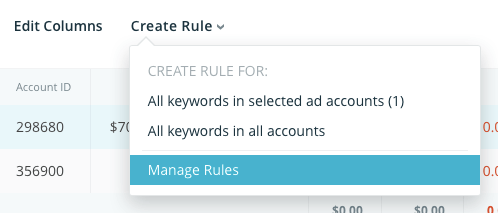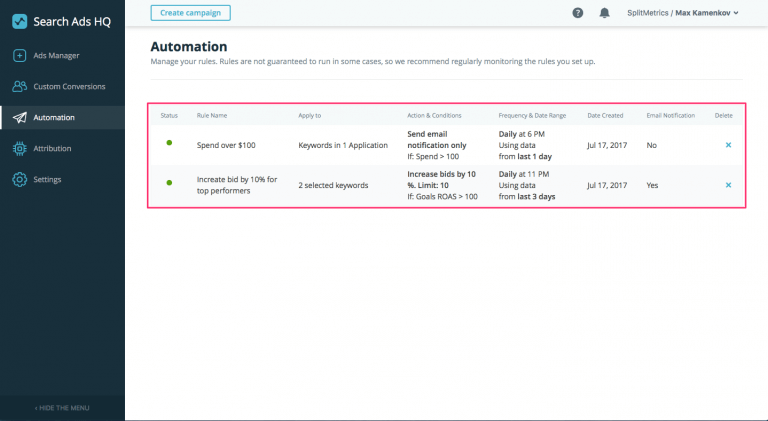 Reports
Once your condition is fulfilled you'll get a notification via email. See the example: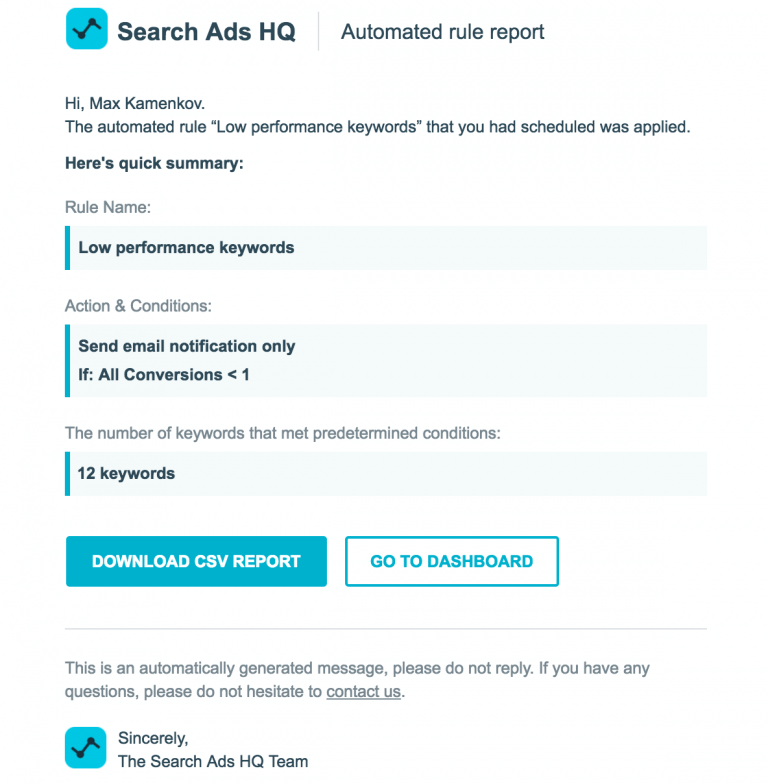 Click to DOWNLOAD CSV REPORT to download the report with the results of your automated rules execution. It represents all keywords that were modified and the way they were modified. Thus, you can see the Status or CPT Bid value before any changes were made and the values after. If you choose Send email notification only action, there would be a list of the keywords matching the conditions, specified in an automated rule.
If you have any issues or need help, don't hesitate to contact us at hello@searchadshq.com.
To continue:
Optionally add our Dedicated Manager to your Apple Search Ads account. How to guide